The following post is an excerpt from our E-Book, "Secrets to Operating a Successful Real Estate Brokerage."
No matter the real estate firm size, recruiting new associates is essential to maintaining a healthy brokerage. Although smaller brokerages generally have less turnover of agents than their larger counterparts, the fact remains that recruiting new agents is vital to preserving existing sales performance or growing the broker's business. Your agent's job is to sell real estate, while your manager's job is to recruit and retain.
Even a couple of poor producing agents will have some sales activity during their time at the brokerage. Adding just a few agents with a few sales will still have created a revenue stream, and that revenue will disappear when these agents leave the company. So, it is of utmost importance that you're able to establish a "desk cost" for each agent, which includes fixed and variable expenses. Your top producers often incur more variable costs, like color copies, marketing efforts, and the like, as they are generating more business. Their desk cost is assuredly higher than the associate who occupies a desk and consumes fewer resources.
To maintain the current level of revenue after these agents are gone means that the broker-owner must somehow replace those lost sales. Quite often, this means recruiting new members to their sales force.
The challenge many smaller broker-owners have is determining the type of agent they need to add to their sales force. Too many of any one kind of agent can be a financial disaster.
For example, let's assume that a broker-owner recruits several new agents with no real estate sales experience (perhaps recruited right out of real estate school).
In most cases, new agents (with little to no sales experience in real estate) will begin with a commission pay plan with a level 1 performance rate of 50%. This means that any sale made by a new agent provides the broker-owner with a much higher net company dollar profit from the sale.
Unfortunately, only having new agents as part of the sales force means slower sales growth and insufficient sales to stay in business.
Conversely, having only experienced agents with 70%, 80%, or 90% commission rates equates to much lower net company dollar revenue.
In this scenario, the business could be booming in sales, but the broker-owner is barely making the cost of running their brokerage business. Balancing the sales force with new agents, experienced agents, and some agents somewhere in the middle is optimum for real estate brokerage success.
It is not a good business strategy to have all agents on the same commission anniversary year. Having the entire sales force on the same commission anniversary year-end will create significant cash flow issues for the company at the end of the commission anniversary year. This is because most of the agents will have reached the higher levels within their commission pay plan. The result, of course, is reducing the company's profitability with each closed sale. It is best to stagger the income by choosing reset dates based on the anniversary hire date or birth date. Many brokerages find it too tedious to start over on different dates (other than the first of each year) unless they have back office software that automates this process.
A strategy used by many of our largest firms is to use the "join date" or perhaps "birth date" to establish the commission anniversary year for any single agent! How does a broker-owner know which agent type to recruit?
With access to business intelligence reporting, a broker-owner can analyze their current sales force and determine if they have the right mix of agents. A superior back office solution capable of producing real-time reports to illustrate who's contributing the most to the broker owner's bottom line is how successful real estate brokerages operate.
As mentioned in a previous section of this guide, large broker-owners never shoot from the hip. They don't guess what might be. They ensure they collect the right information (accurate, complete, and timely) to enable them to review their sales activity whenever and wherever they are. Let's take a look at a few examples: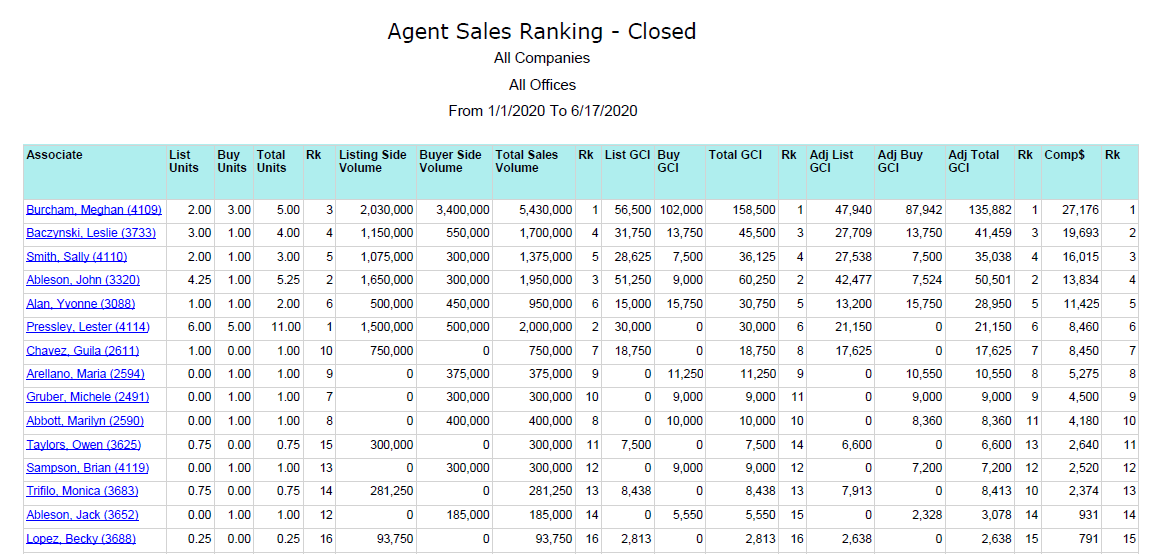 If you were the broker-owner looking at this report, what would be your reaction? Perhaps a more important question is what do you do as a broker-owner when you don't have this report available to you whenever you want it?
This report is compelling because each column within the report can sort the rows based upon the sales activity type such as list units, sell units, listing or selling volume, GCI values, company dollar, and overall net company dollar. By permitting multiple viewing options, the broker-owner is equipped with the vital information they require to make informed decisions related to recruiting and agent retention strategies.
If you don't know your numbers, then you don't know your business. What you don't know about your business will probably put you out of business!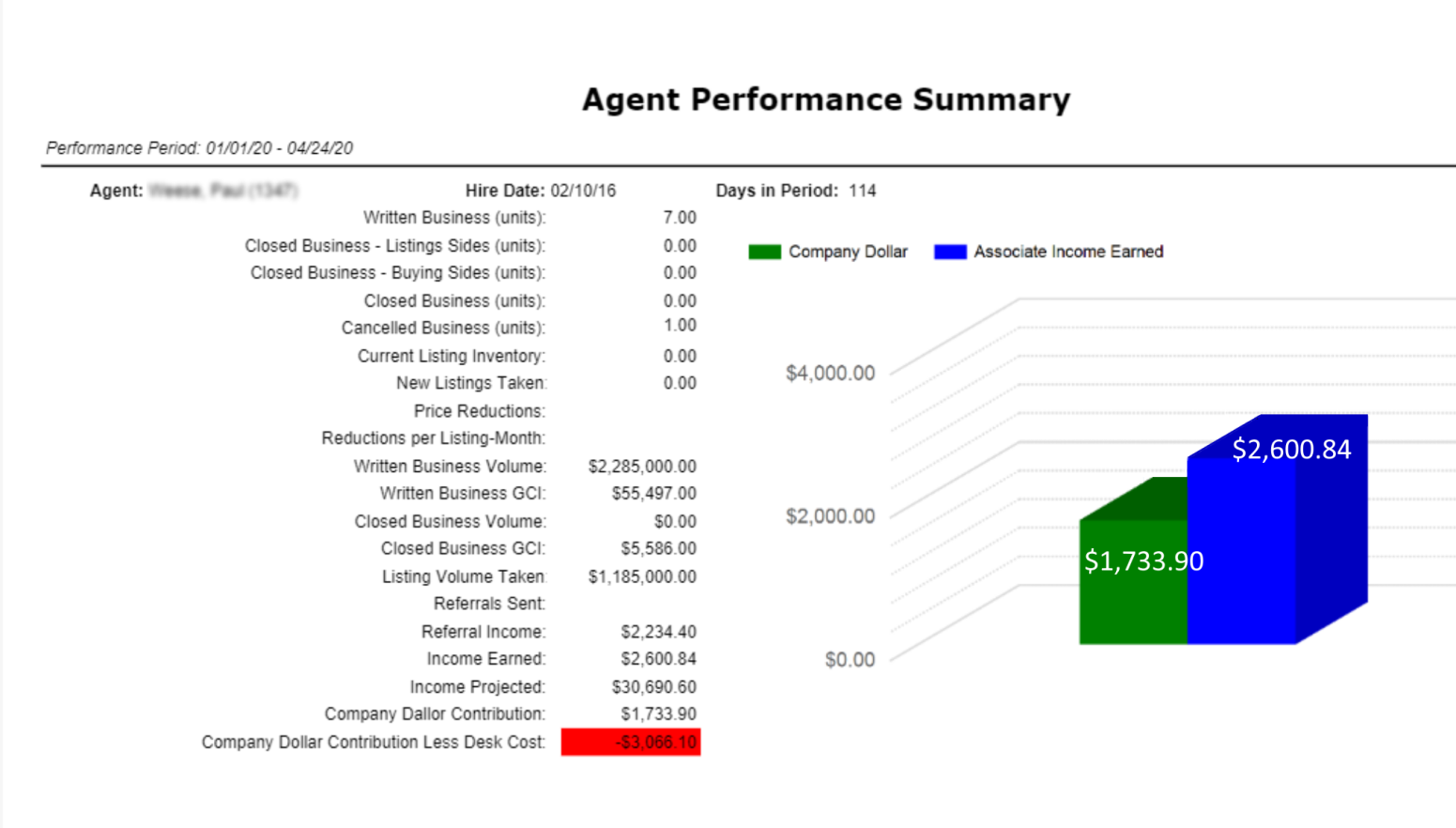 Once again, you are the broker-owner, and you are reviewing this agent's year-to-date performance (date ranges can be selected). What does it tell you? Do you have access to this reporting in your organization? If the answer is "no", where does this leave you?
As established earlier in this guide, recruiting is a vital activity within any brokerage firm regardless of its size. We have tried to illustrate that just "throwing a bunch of agents into your sales force" is not a long-term strategy for success! Research and analysis using high-quality data and advanced business intelligence reporting are major weapons that a broker-owner can use to stir through the maze of choices when building a stable and long-lasting sales force. It starts with quality data (accurate, complete, and real-time) and ends with easy access to that data to create a series of business intelligence reports.
Learn more by downloading our free E-Book: