Savvy Real Estate Brokers focused on growth and profitability rely on key performance indicators (KPI's) to understand their company's performance. Real estate is like any other business. And all successful companies need reliable real-time data to execute rational decisions that lead to profitability.
The same should go for your agents.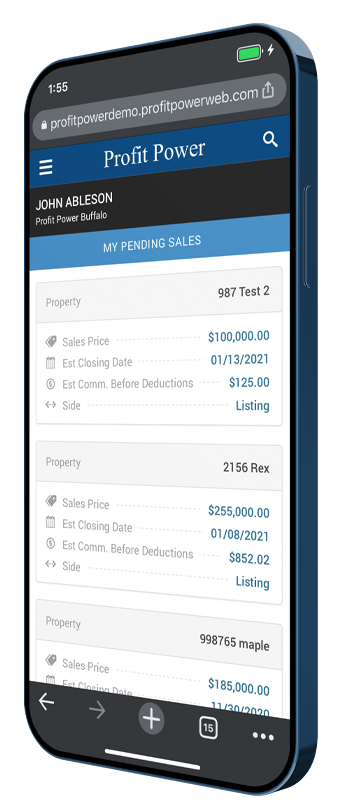 But in the world of brokerages selling residential real estate, most agents need to make a special request to the broker's back-office staff to access detailed commission information for a particular deal. They'll need to run a report on the fly and email it to the agent (assuming this is even possible depending on the back office software you use). This is obviously not a good use of anyone's time. Fear not; there is a solution that solves all of these challenges and unlocks the unlimited potential of each of your agents if they use their transactional data to make intelligent decisions in their business.

Profit Power Agent Edge provides real-time access to deals, commission details, accounts receivable balance, clients, and more.
It is a mobile-friendly solution that is easy to access and navigate.
It provides your agents easy access to their past and pending deals on their mobile devices!
Ask yourself this question, "Can my agents access their closed transaction information, including commission calculation breakdowns, in real-time through a mobile device?"
If they cannot,
Help Your Back Office Team!
Your back-office staff can focus on processing transactions and getting agents paid instead of answering questions on commission breakdowns, closing details, and other information agents require to run a profitable business.
You help your back-office staff and keep your agents happy with necessary and convenient technology solutions.
Turn Profit Power Agent Edge into an effective recruiting and retention tool for your Brokerage.