The job of recruiting and retaining top agents is always a top priority for Real Estate Brokerages. Providing technology tools to help agents in their business is one major way Brokers look to accomplish this. Every year there's new technology offered to Brokers and Agents that promise to help build their businesses up. Yet, technology that allows your agents to monitor their written and closed business, as well as their commission breakdowns is a tool seriously lacking in the real estate industry. The simple reason is that most back office software solutions don't provide this data to agents in an easily accessible format. It is often provided in the way of reporting that is not real time, nor interactive. It is usually left up to managers or administrative staff to run ad hoc reports that need to be sent to agents when they request it.
We have set out to solve this problem with Profit Power Agent Edge.
Profit Power Agent Edge is a web based portal that allows your agents to access a real-time view into the heart of their business. Agents are able to easily access their listings, written sales, closed sales, commission payouts, accounts receivables, client information and more. The best part is they can do this all through their mobile device.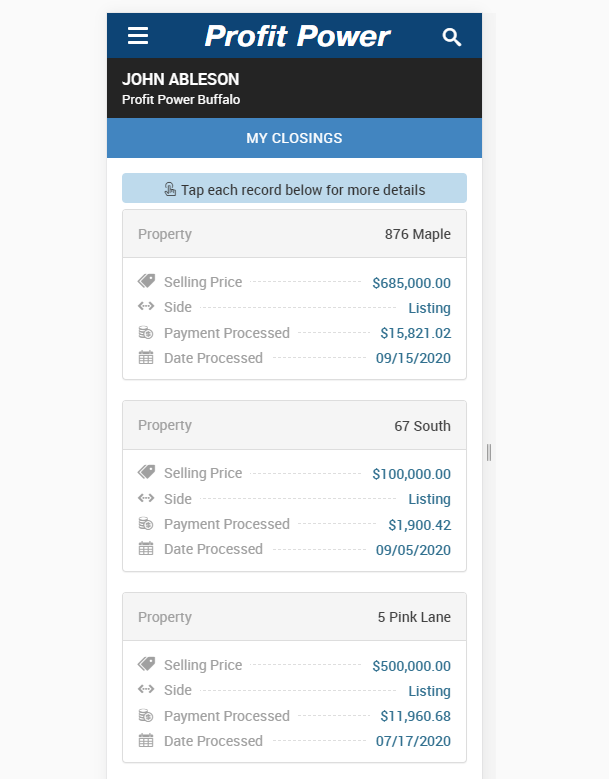 Think of how more efficient this makes your brokerage as a whole. How often are managers and administrators tasked with helping agents navigate their commission payouts? Think of the reports that admins have to run to help agents understand where they are in their commission plan levels. Think of how you can improve your agent recruiting efforts using Profit Power Agent Edge as another competitive advantage your brokerage has over the competition.
Learn more about Profit Power Agent Edge by scheduling a demo with us. Learn what the top real estate brokers in the country already know.